Share Success by investing in creative companies
BeeezCrowd makes it easy to discover, invest, and share in the success of a business. As a digital investor, you can obtain shares in many Micro – SMEs companies by raising funds and share success.
BeeezCrowd platform awards the digital investor two Digital shares for every Digital share in any crowdfunding campaign as gratitude from the fundraisers and an expression of their thanks to the digital investors and a desire to encourage digital investors and support Micro – SMEs projects
1. Discover
This is where your journey towards a diversified investment portfolio starts. It's free to join and once registered you can request more information, ask questions and make your first investment.
2. Invest
You've discovered a business that you truly believe in and now you are ready to help them succeed. With a few clicks, you've made your first investment and are ready for the next step.
3. Share
The success of your investment is dependent on a community effort – Micro or SME company that needs your support. Become an active shareholder by investing a small amount in several companies.
4. Equity
Anyone can become a crowd digital investor. Invest as little as 1 JOD and start creating your diversified portfolio today. Today BeeezCrowd empowers everyday digital investors to be part of the next big thing.
Support our community projects
BeeezCrowd campaigns convert ideas into reality. It's where creators share new visions for creative work with the communities that will come together to fund them.
Micro – SME must turn to outside sources of capital to give themselves enough runway to create a profitable business, and where that capital comes from and on what terms are questions that must be carefully weighed before a decision is made.
Lucky for micro and small companies , there is now another door that those companies can open to access capital: equity crowdfunding.
In essence, equity crowdfunding is raising capital from the crowd through the giving of Equity in the shape of shares.
How it works?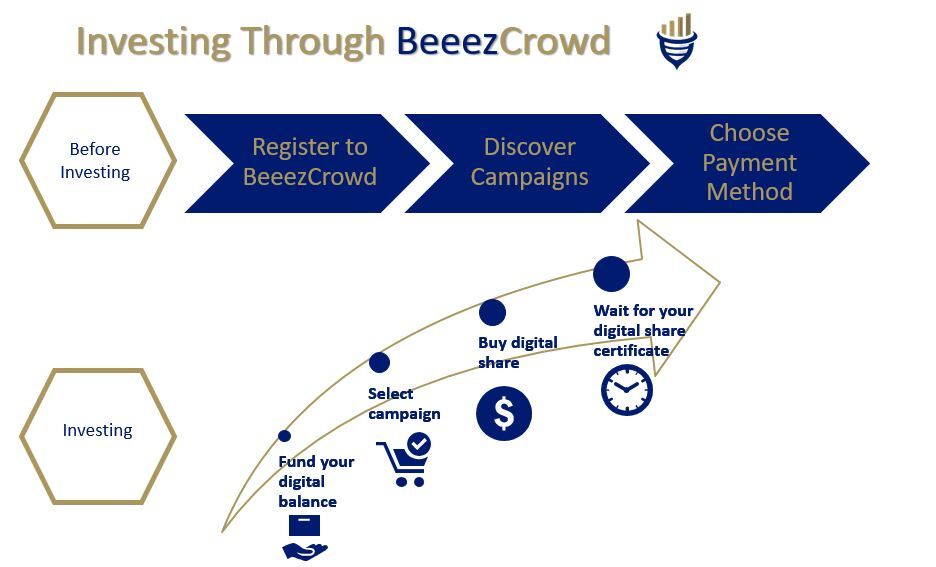 Business that can be invested in
How companies make it onto BeeezCrowd
We pride ourselves on quality over quantity. BeeezCrowd endeavors to provide crowd digital investors with diverse and exciting investment opportunities that show the potential to succeed.
In contrast to crowdfunding in the broad, equity crowdfunding offers digital investors a way to obtain equity in the Micro – SMEs that they are crowdfunding. Digital Investors in equity crowdfunding rounds get a share of the action, owning a portion of the company that they invest in.
Invest in an equity crowdfunding campaign and you'll get a share of future dividends and enjoy capital appreciation too. In other words, once a company is sold or goes public digital investors will get paid for their share. Stand to gain if the company has grown in valuation.
While there are other ways to acquire equity in companies, equity crowdfunding is unique in that digital investors can buy shares in very small increments. And, while anyone can buy small amounts of shares, equity crowdfunding allows individual investors to buy equity in micro and small companies that are a long way from listing on the stock market.
Invest as little as you want
Invest as little as you want – a low minimum investment threshold allows digital investors to participate from as little as 1 Jod/1$. This means that digital investors don't take on as much risk as they would if they were to invest a hefty amount in only one business.
Why Digital Investors Like to invest in Mico – SMEs:
Potential for Return on Equity
For digital digital investors, the biggest benefit of equity crowdfunding is simply having skin in the game. Though most startups fail, partially or totally wiping out early digital investors, many go on to succeed. And a few, achieve stunning growth and end up dominating their markets.
Accredited Digital Investor Status
For many prospective equity crowdfunding digital investors, accreditation remains a significant obstacle to full participation. Though non-accredited investors are permitted to participate in equity crowdfunding campaigns with few limitations, many equity crowdfunding platforms remain closed to the general public.
Liquidity
Equity crowdfunding is a business model where digital investor obtains shares in Micro – SMEs. Unlike shares in publicly traded companies, these shares, for the most part, can't be sold in the public. Even if the company you've invested in survives and thrives, you're likely to wait years to see a return on your equity crowdfunding investment.
Lucky for micro and small companies, there is now another door that those companies can open to access capital: equity crowdfunding. In essence, equity crowdfunding is raising capital from the crowd through the giving of Equity in the shape of shares.
Frequently asked questions
Who can Invest?
As a digital investor, you may contribute to any Micro or SME project (if you believe in), this could be one Digital share or hundred Digital shares
How do I make an investment?
Join our digital investor's network and register with us for free, then you can obtain Digital shares in any crowdfunding campaign that you like.
What is the minimum investment?
You can obtain Digital shares by invest as little as 1 JOD/ $1
BeeezCrowd" is a specialized online platform that provides a method of raising funds used by startups and early-stage companies (SMEs) adopting the model of Equity crowdfunding (also known as crowd-investing or investment crowdfunding). Essentially, equity crowdfunding offers the company's securities to a number of potential digital investors in exchange for financing. BeeezCrowd is not a registered broker-dealer. Equity-based crowdfunding is a type of high-risk financial transaction and investment that involves the risk of losing all money, risk of illiquidity, risk of no return, risk of dilution of Digital shares, lack of control of the company, lack of information and other risks as explained in more details in the terms and conditions. "Beeezcrowd" does not aim to publish the information of the companies presented to the public as an investment recommendation and does not provide any guarantees against risks. These companies are fully responsible for their activities, managing their services and growing their business, and using the money they have obtained from digital investors properly. "Beeezcrowd" is not responsible for managing funds from these companies. "Beeezcrowd" does not provide any advice, guarantee, or recommendation on the level of legal, financial or investment risks. A Digital Investor is strongly advised to read through the risks listed in the terms and conditions in order to help him make an informed decision. A digital investor should consult his/her/its own legal, tax and financial advisers regarding the suitability, desirability and appropriateness.